Lighting System Design and Installation
Performance space based lighting systems require thought and appropriate design and utilization consideration. We offer consultation, design and installation services for small to medium performance spaces desiring to light a stage or provide quality dimmable house lighting. Contact us for additional details about our custom designed systems.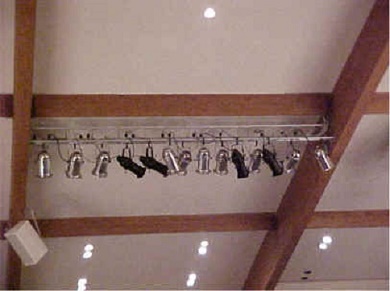 This facility is designed with mirror light trusses, one on either side of the stage, which allow for correct lighting for events taking place on either side of the stage on in the middle. Included here are both PAR cans and ellipsoid fixtures to be able to provide lighting exactly where it is needed.
Dimming devices are mounted in an equipment rack backstage in this venue. These control devices are easy to access and remove should repair be required. In other venues dimmers are mounted in recessed wall panels.