Network Systems Design and Installation
We provide complete network systems design and support, both wired and wireless. We will provide a no-cost initial assessment of your facility needs and propose a high quality installation and implementation for your facility.
We feature eero, Luxul and NetgearAV systems for small business applications.
Luxul Systems
Luxul small business system include up to 32 Access Points withe 2.4GHz and 5GHz with Dusl Band concurrent beamforming. Up to 8 SSIDs can be used. Single wire installation keeps the inital costs down and regular maintenance to a minimum. Both unmanaged and managed switches are avaiable with PoE+ Everything needed to create a smooth operating network for your business. Adn this system works well with livestreaming systems.
Netgear Systems
As the need for more virtual communication within the performance community so does the need for more effective transmission methods. There have been a number of Network based A/V communication protocols available for many years with such names as Dante being prominant. However for many years the configuration and costs made implementation impractical for all but the large companies with massive budget dollars to throw at the projects. But more recent developments have made it possible to utilize the small networks in a church or other performance venue to transmit high quality audio and video by using existing cabling and network backbone. To facilitate the shared data and A/V traffic required switching that would allow A/V to pass across the network interupted by data traffic thereby preventing latency or dropouts in eht A/V signal. The development of Layer 3 switches and features like QoS (Quality of Service) allowed for the different types of traffic to share the same backbone without compomising the A/V traffic flow. Netgera has developed a series of switches, the M4250 A/V line that come preconfigured for IP related traffic like DanteA/V or NDI, a common A/VoIP protocol offered in many lower cost PTZ cameras. This morecent set of developments allow us to design a quality A/V system for any level of customer.
eero Systems
For smaller facilities with fewer WiFi users and eero system may be adequate.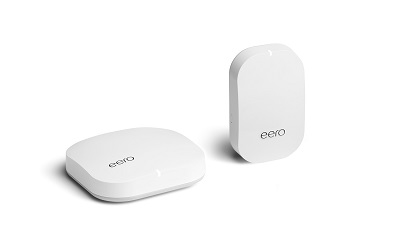 eero mesh systems are perfect for small business or church applications when extending the reach of the WiFi signal is needed.
Please feel free to contact us for a no-charge no-obligation accessment of your needs. You may call at 513-703-0147 or use the CONTACT link below.
: