Video System Design and Installation
Whether a single or multiple camera system is required, we are prepared to design and install the system you need. With access to high quality equipment manufacturers and many years of system design we can assist in providing our clients with the best system for their facility.
For many organizations Pan Zoom Tilt (PTZ) cameras are the best option. Even with a number of camera locations, each camera can be set to cover a particular scene using only one operator. these cameras are most often controlled using a joystick. Preset configurations can be saved so that the camera can be repositioned to a new view with just the press of a button.
For facilities with multiple camera locations a switcher is required. With special effects capability built in these units can provide a technical director or engineer with the tools needed to provide a high quality finished video product. Shown here is a Vaddio Productionview switcher which provides up to 5 camera inputs and a computer input making it perfect for most church applications. Click here to see more about this switcher.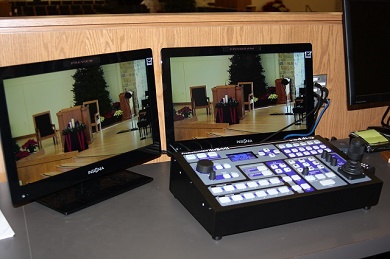 Shown here is a video workstation featuring the Productionview switcher and the connected monitors. The left monitor displays the camera that is in cue and the right monitor displays the program camera view. Notice that the camera control joystick is on the right with associated buttons used to select which camera is being controlled as well as PTZ speeds.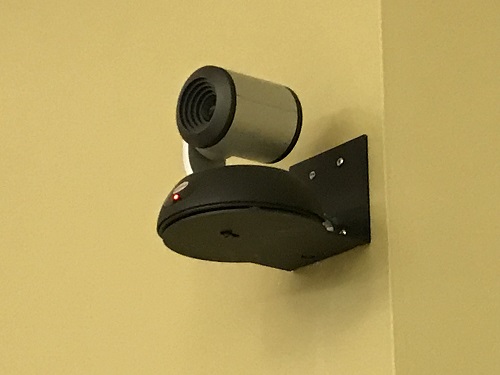 Shown here is a Vaddio PTZ camera with a 20X zoom operating at 1080P and mounted on a rear wall of a worship space and, along with two other like cameras provide a three camera system for broadcasting the services live on the internet.