Immanual Lutheran
To visit the church's web site, click on the picture above.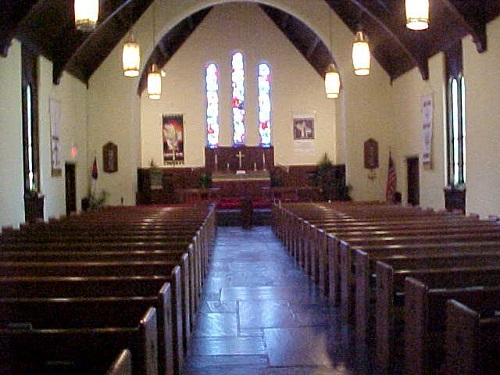 This beautiful Sanctuary is built in a traditional German style with heavy beams of dark wood forming the ceiling, pews and wood trim. The floor is flagstone and concrete and the walls are plaster. While very attractive, the hard surfaces of this room made for interesting dynamics when deciding upon the proper design for the speaker system. The reverberation time enhances traditional music but detracts from the spoken word.
A central speaker design provided point source sound distribution needed for clarity in spoken word. Keeping the speaker as visually inconspicuous as possible required locating it somewhat high in the rafters. The speaker system is made up of 2 devices with one being a 2 way Klipsch cabinet which provides the mid and low frequencies and a horn which feeds the center and rear of the room. A second high frequency horn was added to cover the front 1/3 of the seating area. A Renkus Heinz horn was specified due to its sharp roll off of sound outside the throw pattern.
An antiphonal organ rank of pipes serves as a divider between the balcony choir loft and the Sanctuary. Because of the distance and height, providing sound with integrity to this recessed area required a second speaker be placed in the loft area. A time delay was added to bring the speaker output into the same time domain as the sound arriving naturally from the front of the Sanctuary. The speaker was hidden behind the grillwork of the organ pipes so as to not be visible from either the loft or the Sanctuary.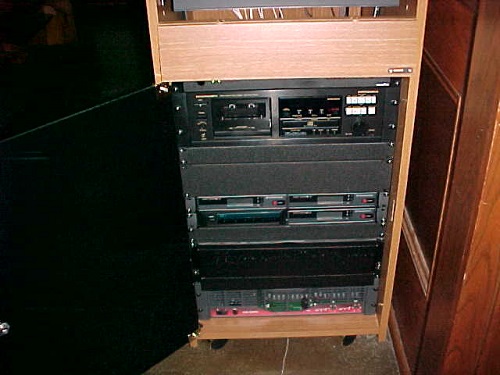 A movable equipment rack housing the mixer, source devices and wireless mic. receivers was added to the rear of the Sanctuary. An extra long snake cable was provided so that the unit could be moved out into the Sanctuary during special events when detail mixing was needed. The rack is lockable to keep out non-technical persons.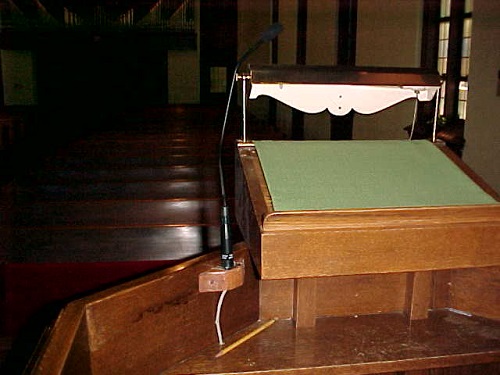 Mounting the mic. to the pulpit presented a particularly difficult challenge. There were no flat surfaces from which to mount the bracket. We decided to make an oak wood block in which we could mount the mic. connector but which would remain out of view of the congregation.
Because of the flagstone floor material and the solid masonry walls, the snake cable from the chancel area had to be run across the floor. Because this was run in an isle, we built an oak wood cover for the cable which keeps it out of sight and away from feet.
The amplifier and equalization system was installed at the front of the Sanctuary in the Sacristy room. This out of the way place should assure that the system is not modified by unauthorized persons. This unit also houses the transmitter for the hearing impaired listening system.